LaunchPad is proud to have a strong following of dedicated users who tell us they could not function or do their work without the use of the LaunchPad Keypad. They have come to realize the benefits, ease of use and overall speed that LaunchPad brings to them in their drafting, drawing, engineering and modeling applications. With this in mind, we currently feature some of our users' testimonials on the LaunchPad website, www.launchpadoffice.com. They are found under the "Testimonials" tab and highlight a variety of LaunchPad users with different levels of experience.
We wanted to share some of the enthusiasm of our users and decided to feature an occasional testimonial here on the blog so that others can see what the existing users have to say about the product. It truly is a valuable input tool (with built-in software) that increases speed and productivity for users in the architectural, engineering, design and modeling fields.
Here's what one of our users had to say:
"I have always used LaunchPad with AutoCAD because it is simply the fastest way to input commands. No one can keep up with an accomplished LaunchPad user and, with a relatively small effort, it is easy to become one. Now with the ability to work with SketchUp, Revit and Photoshop, I am using LaunchPad to speed up my work in those applications as well.
My advice: Buy a LaunchPad and use it. If you make the effort to become proficient with it, you will see a huge increase in your productivity and soon enough you will be saying the same thing I have been saying for years: "I couldn't live without it.""
Tim Reader Tim Reader Design Phoenix, AZ (20 year user)
If you would like to see more testimonials, check out the LaunchPad website!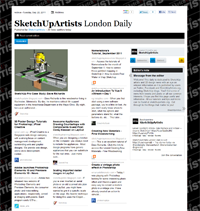 We came upon this interesting news publication that we wanted to share with you as another resource to take advantage of. It's a daily online newspaper called SketchUpArtists London Daily. It's updated every 24 hours and is created by SketchUpArtists.org, which is a site developed for the benefit of professional SketchUp users and computer graphics artists.
The publication is full of daily posts from users and others in the SketchUp and 3D design industry. Because the site is regularly updated, it contains the most recent and relevant news, articles, blog posts, videos and photos that are shared on such sites as Twitter, Facebook, SketchUp blogs, and the SketchUpArtists.org site. The newspaper site covers Headlines, Technology, Media, Stories, Education, Photos, Leisure and Environment. There are discussions and how to's relating to SketchUp, Photoshop, rendering, BIM and much more. The site even contains an Archive button that allows you to review previous editions that you may have missed.
So, if you're a user of SketchUp and other 3D design tools, and want to see "at a glance" what others are saying and doing in the industry, it's definitely worth checking out. Hats off to SketchUpArtists for bringing it to us.
The publication can be found at SketchUpArtists London Daily. Enjoy the news!

The folks over at Autodesk User Group International have posted a great summary article about their August 2011 release of "AUGIWorld – The Official Publication of Autodesk User Group International." To provide you with exactly what's inside this online magazine issue, we're re-posting their article here. Enjoy!
AUGIWorld August 2011 Issue Released!
• Collaboration is more than just a tidy word to describe diverse users working together toward a common goal. Collaboration is a mindset and a culture which, fortunately for Autodesk product users, is aided significantly by the products they use every day.
• In "Keys to Collaboration Success," author Brian Benton offers some practical tips for collaborating on AutoCAD projects.
• Melinda Heavrin's article "Collaboration with Autodesk Design Review" elaborates on how drawing markups can become an easy, streamlined operation.
• And Andra Marquardt demonstrates how AutoCAD Map handles the critical process of file import and export in "Speaking the Same Language."
Here are the direct links to the issue!
Low Resolution PDF
(6.9mb) /
High Resolution PDF
(30.0mb) /
Read it Online
Also in the August 2011 issue of AUGIWorld:
• The Autodesk Exchange Apps Store: In June, Autodesk launched a marketplace where you can find great apps—plug-ins, block libraries, e-books, training videos, and more. Free apps, trials, products for purchase—as close as a tab in AutoCAD 2012. Stephen Preston shows you around the store.
• Collaboration in a Multi-Disciplinary/Multi-Firm Environment: Bryan Tanner shows you how to share drawing files efficiently with those inside – and outside – your environment by using great tools inside AutoCAD Civil 3D.
• Collaborating with Autodesk Inventor Publisher: In our technology-driven world, the ability to share designs and communicate effectively has never been so important. John Evans illustrates how Inventor Publisher is up to the task.
• Electrical and Mechanical Coordination: Revit MEP works admirably as a method for bringing mechanical and electrical engineers together. Todd Shackelford shows you how it's done.
• Revit Collaboration: Then and Now: Troy Gates looks back on how collaboration workflow once worked in Autodesk Revit, and how it is done today. An emerging technology is also making inroads.
• Collaboration with Revit Structure—Work Sharing: Phil Russo takes you step by step through collaboration in Revit Structure. Lots of tips and tricks here.
• Collaboration and Data Management for AEC Projects: What's Autodesk's vision for collaborating with the Revit platform? It's 360. Revit Design Product Line Manager Anthony Hauck elaborates.
• Collaboration & Interoperability: Seth Borne describes a plethora of third-party modeling solutions and techniques for integrating assets into 3ds Max.
• Value-Driven Project Delivery: Understanding the needs and requirements of clients is critical to delivering successful projects. Here are six keys to success, from Andrew Abernathy.
• 15 Questions with Shawn Hendricks: This month's Autodesk Insiders column provides a look into the world of Shawn Hendricks, Senior Technical Marketing & Video Production Manager, Media & Entertainment Marketing.
• Inside Track: Recent developments in Autodesk and related software.
• Heads Up! Updates, service packs, and more…from the pages at Autodesk.com.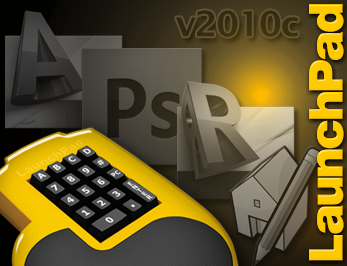 LaunchPad is pleased to announce that we are very close to releasing our latest update to the v2010 software. This update will be designated as LaunchPad v2010c and is an enormous update over the last v2010 release. It is currently in the BETA phase of testing, being tested by a small group of very talented and experienced LaunchPad users, as well as one new user who is able to add some fresh perspective to the mix. The testers are putting it through the paces to allow us to bring you the best update possible!
The v2010c update brings together many key enhancements and offers many new features and optimizations that are specific to AutoCAD. Once complete, this update will further evolve v2010 into a very stable release. This update also introduces our new, one of a kind and powerful KeyinEditor that creates a complete input dataset collection for the new LaunchPad Universal Input System. The system will have pre-built macrosets that are aligned with each other wherein similar commands share a common keyin value. Also, there is the grouping of various drawing products based on a user's discipline or field of work. For example: "BIM Modeler" group is an aligned collection of Autodesk Revit and AutoCAD, along with Adobe Photoshop. When a user decides which discipline group he or she belongs to, additional drawing products can be added to the overall data collection that is specifically designed for the individual user. Also, the Editor allows a user to work and edit within various products simultaneously. This feature has never been offered before and is completely unique to LaunchPad.
All existing users who upgraded to the v2010 LaunchPad software will receive v2010c absolutely free in approximately two weeks. This is an update that should be well received. Our testers are tweaking it out in terms of optimal usage and are giving us great feedback. They are noticing that it is very responsive and that prior bugs have been eliminated. They are finding that new and useful tools have been introduced to enhance input speed and ease of use within many different applications.
We will keep you posted on the v2010c release status and will be sending it to all existing users who are eligible upon completion, so stay tuned . . .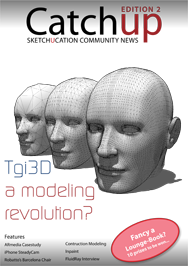 The latest installment of the SketchUcation Community News "CatchUp" magazine, Edition 2 is now available on the SketchUcation website.  In line with their Edition 1, there are some interesting articles and product features to be checked out!
You can see the magazine by clicking here:  http://78.47.159.221/Catchup_2011_04.pdf.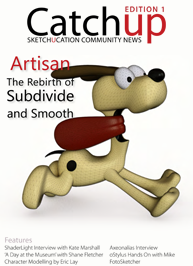 Because LaunchPad supports a wide variety of drafting, drawing and modeling software applications, we're constantly on the lookout for articles, publications, books, websites and other relevant information relating to the products we support.  We look for things that will help keep you informed and enlightened on these products, and also assist you in the growth and enhancement of what you're currently doing in your own work discipline, if that's your goal.  We strive to be a valuable resource to our LaunchPad community so that you can better utilize the applications that are available to you with your LaunchPad keypad as the driving input device behind them.    
As most of you already know, we were excited to include Google™ SketchUp™ as one of our many supported modeling products in the LaunchPad v2010 update release. We continue to see the trend in the movement towards more 3D modeling in the industry and wanted to be able to bring this and other products to you with the same ease of use, benefits, and accessibility that you enjoy in using LaunchPad with 2D applications. We're happy to see so many of our traditional LaunchPad CAD users getting on board and migrating over to the 3D applications, including the use of SketchUp! We've been hearing from you on how SketchUp enhances your work product, brings you benefits in relaying design concepts, and contributes to securing projects with clients. We're also glad LaunchPad is helping to make this transition into 3D easier.
With this in mind, we recently came upon a resource that we thought might be valuable to you in using SketchUp and wanted to share it. It's an online magazine publication on the SketchUcation website called "CatchUp – SketchUcation Community News." For those of you who are not familiar with the website, SketchUcation is a site for all things related to Google SketchUp and is referred to as "The friendly place for your Google SketchUp needs." It certainly is, and it's a great resource for SketchUp users. The site contains Forums, Plug-ins, Tutorials, Galleries, "The Daily CatchUp" – for daily news updates, Beginner Tips, and more. It's full of great information and we recommend that you check it out at http://news.sketchucation.com/. You may discover things that are helpful to you in your SketchUp endeavors.
SketchUcation's "maiden" issue of the publication "CatchUp – Edition 1" was introduced on 2/28/11, with more editions to follow.  We found the periodical to be filled with interesting and useful articles for SketchUp users, along with great pictorials, product features and tips and tricks. SketchUcation describes CatchUp – Edition 1 as being "packed with community driven articles from some of our most talented members. You'll find an exclusive 'behind the scenes' look at some of the most popular threads, plugins and tutorials that lit up the forums over last few weeks." Some of the featured content in the issue includes: ShaderLight Interview with Kate Marshall, 'A Day at the Museum' with Shane Fletcher, Character Modeling by Eric Lay, Axeonalias Interview, oStylus Hands On with Mike, FotoSketcher, Artisan Hands On, LayOut Tips and Tricks, Learn with Lemire, and more. The magazine is in a PDF format and can be viewed here: CatchUp – Edition 1, on the SketchUcation website.
We encourage you to check out the publication and the SketchUcation website to see what others are saying and doing with SketchUp, and learn more about what it can do for you. It's definitely worth the look! Remember, LaunchPad supports SketchUp with the Basic XT, PRO LT, and PRO XT keypads, and SketchUp is a FREE product to download.  If you're interested in using 3D products with your LaunchPad keypad, you can visit the LaunchPad website at www.launchpadoffice.com for more information on our selection of keypads, software and the many products we support. 
Also, if you would like to stay connected to LaunchPad's weekly assortment of resource mentions, including SketchUp, you can receive LaunchPad's Facebook posts in your FB newsfeed by "liking" the LaunchPad page at http://www.facebook.com/LaunchPadKeypad and follow us on Twitter at http://twitter.com/LaunchPadKeypad.  We regularly feature LaunchPad and supported product related happenings, updates, tutorials, links and the like, to keep you in the information loop.  We invite you to join our LaunchPad community for regular updates.
We hope you enjoy the SketchUp publication!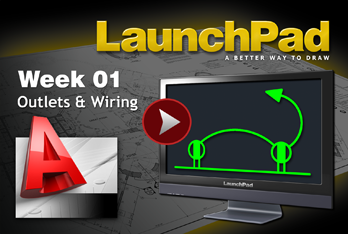 LaunchPad is excited to introduce a new video series called "52 Weeks of LaunchPad Techniques."  The series will feature one simple technique per week using the LaunchPad keypad to input commands for drafting and drawing within the many applications supported by LaunchPad.  Demonstrations will be done in AutoCAD, SketchUp, Photoshop, 3dsMAX, Revit and many more.
While there are literally thousands of commands that can be executed with LaunchPad and all of its supported products, we decided to highlight one collection each week to give a general sampling of how the product works within different applications and what it can achieve.  When we are finished, we'll have an entire collection of techniques for users to tap into as a resource for new information, continuing education or just refreshers for our veteran users out there.  The videos will show how easy LaunchPad is to use with a myriad of drawing products and how much it simplifies the drafting and drawing process, while increasing speed and productivity.  We're certain there will be examples of things that our users may not be aware of, so there's potential for something to be learned by all!
The technique used in the first video in the series was actually suggested recently by one of our users who needed the process for a current work project.  The video focuses on drawing Outlets and Wiring on a floor plan using the LaunchPad keypad while working in AutoCAD.  The example used is only one of many possible ways the task can be completed.  We chose a short set of commands in our two macrosets to provide an initial understanding of chained commands and pauses.  We also show how to string commands together to execute a series of tasks that are necessary when doing just the simplest of things, like inserting outlets and wiring them up.
The next video will be on the Programming and Drawing of Standard Primitives with LaunchPad inside 3dsMAX.  Stay tuned!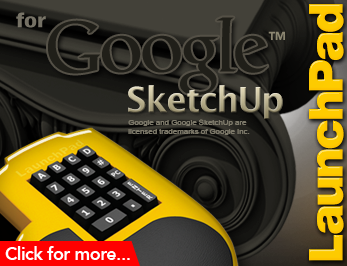 I would like to take a moment to tell you a story about my experiences with CAD and Architecture, and a trend I'm seeing for the future of architects and others in the field.  As an architectural draftsman of many years, a software developer for CAD related products (LaunchPad), and a reprographer for Architects and Engineers for 10 years, I've had a lot of experience in dealing with CAD users over time.  I migrated from CAD to AutoCAD early on.  Along the way, I witnessed a lot of enthusiasm from individuals and companies who had a desire to migrate away from hand drafted plans to CAD.  In the beginning though (the first 5-7 years), there was stiff resistance from within most of the companies I had contact with.  The resistance was from firms that were just not ready to make the jump, or that had individuals within them who fought bitterly against the concept of CAD.  During those years, I operated as a CAD consultant, where I made it my passion and career to migrate users and firms from hand drawing to CAD.  Suddenly, as if overnight, all changed and the world went CAD.  At that time, I was hard pressed to find anyone who was still hand drafting plans, and I thought back to all the CAD resistance that I had endured during those early days.  What they say about old dogs and new tricks…so true.
A transition in CAD occurred again with the introduction of 3D CAD.  2D CAD operators, or firms who had been heavily invested in 2D AutoCAD, were now being challenged with new concepts such as BIM and generating projects within a 3D environment.  I have to admit, I was one of them.  I can recall looking at Revit earlier on and found the 3D capabilities to be rather complex.  So, I held off from migrating to the idea of drawing plans in 3D, since the learning curve was so incredibly complicated.  The concept of generating models that turned into 2D construction documents was intriguing, but the plotted results appeared rather simplistic, or did not represent themselves in a manner that I had come to expect from my 2D CAD.  I talked to many other users who also tried to make the transition, and I heard the same two stories from them.  One being that, if you draw large commercial, boxy projects, like hospitals, then using Revit was fine.  The other was the time factor, being prepared for it to take 3-4 times longer to generate a set of plans.  It was great for larger Architectural firms who had the right projects and the budgets behind them.  Or, even those projects where the client was willing to pay more for a digital model of the project, if they had uses for the model beyond the construction phase of the project.  In both cases, it did not seem to be a scenario that fit my needs.  Nor, did it fit the needs of the customers and clients that I had dealt with in my CAD oriented businesses.
Eventually, my clients and customers wanted to go to 3D.  Even I did, but abandoned the idea because I was not able to give it the necessary time.  I found that what stopped most people from proceeding with 3D was that they did not have a path to executing it.  That path consisted of:  an economical method, easy to implement, a short learning curve, and results that did not produce a product that seemed sub-par.  And, since the established products on the market only met some of those requirements, a great percentage of firms and users shied away from 3D over the last 10 years.  But wait, all was not lost.  Along came the new SketchUp by Google.  At first glance (I was given that glance through a FREE download version of the software that's available to everyone), I was a little skeptical, and so were a lot of the other people I had talked to about the product.  It looked kind of like a "toy" product at first, but now I say, don't let it fool you.  You have to look at it objectively and not make the assumption that it is a limited product.  After using it for a few days, I immediately determined that this product needed to be supported by LaunchPad, and it now is. 
What I see is that Google SketchUp finally delivers on the essentials that non-3D architects and drafters have been looking for in the last decade.  Again, let's look at some of the pieces needed in executing the path to 3D that users have been waiting for:
Economical - For starters, the Google SketchUp application is FREE.  (They do have a $495.00 PRO version and I'm sure it's worth every penny.)  But, FREE means there is no reason for you not to at least try it.
Easy to Implement – After going through (25) 3-4 minute videos online that show how to execute all of the basic commands, I was drawing in 3D.  Wow, I had never drawn in 3D before!  And, in the first day, I was making things happen.
Short Learning Curve - With most 3D products there is a demo video that makes everything look easy and fast, but when it comes to implementing and producing something of any size from it, forget it.  Then, the long learning curve comes into play, which means a heavy investment in time.  Take, for example, 3dStudio MAX.  It's a great product and can do some really amazing things.  I have seen some active modeling done from it that would knock your socks off.  But, it was done by a user with years of experience and many projects under his belt.  Many of us cannot accomplish this.  With SketchUp, I was able to do a complete rendered 3D house in less than a week.
Great Results – This is a key element.  SketchUp, out of the box, is not going to produce a photorealistic render for you.  That would need some help from a 3rd party product that takes the geometry from SketchUp and generates the rendered model.  But wait, there is good news.  There are some really great products out there that can do this, and some only cost between $99 to $499.  I wanted to go all the way with it and downloaded a 30 day trial of the $499 product.  The product I used is called IRender nXT for SketchUp.  The results were so spectacular from this simple to use program, that it was all it took, I am now hooked on 3D modeling.
What SketchUp brings to the CAD person is a forgiving modeling interface that is actually easy and very fun to use.  As a creative Architect, you can be more artistic and free flowing with your design concepts when modeled in SketchUp.  All without the accuracy intimidation found with some of the other higher-end 3D/BIM oriented products.  There is a time and a place for BIM, and many higher end projects do require it.  However, there are many projects that do not require the time consuming use of BIM standards.  For example, you may want to put together a conceptual model for a client, with a very short turn around, to bring an idea to light.  SketchUp is perfect for this and allows you to create a modeled concept in no time.  It also makes 3D modeling a feasible option in terms of the decreased amount of time needed for model development, as well as a shortened learning curve that allows users to make use of the basics of modeling, without all of the BIM requirements.  So, if you are an Architect or draftsman using 2D CAD and have been saying to yourself, "I need to be able to better compete in this economy and it's now time to get into 3D modeling, but where do I start?", then let me recommend Google SketchUp as that starting point.  Keep in mind, it's not that I dislike Autodesk ADT, Revit or 3dsMAX, they are all great products and LaunchPad supports them.  It's just that these products are a little pricey and have an extremely long and involved learning curve. 
If you are really hooked on continuing to do your drawings in 2D AutoCAD, but you want to be able to provide 3D modeling of your projects without all the overhead and expense, then it's your lucky day with Google SketchUp.  I personally feel it is the most impactful CAD related product of the last 10 years.  I make this statement, not because other 3D CAD products aren't doing a better job, but because of SketchUp's simplicity and cost.  Not to mention, it's used today by millions of users worldwide.  How many seriously proficient ADT, Revit and 3dsMAX users do you know?  In my many years in this industry, I may know a handful, at best.  The accessibility and ease of use that comes with using SketchUp makes it worth jumping into the 3D modeling realm for 2D drafters at last.
Visit the official Google SketchUp website to find out more about this product and get the FREE download.  
Coming in future postings…
There will be a (3) part video series on using Google SketchUp with LaunchPad.  Part 1 is already available and you can access it here.  We will also be providing other blog postings with specialty stories relating to Google SketchUp.  So please, keep an eye out!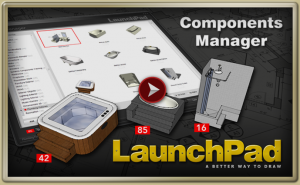 LaunchPad is excited to announce the first release of a three part video Introduction Series on using LaunchPad with Google SketchUp, one of the many programs it supports in drafting, drawing and modeling applications.  Part 1 provides an initial understanding of the basic fundamentals of the LaunchPad Keypad and how it operates.  The video features graphic explanations of some of the keypad systems and brief demonstrations within Google SketchUp. 
In Part 2 of the series, there will be an introduction to techniques that LaunchPad employs to empower users working in SketchUp.  There will also be many more hands on, practical applications and demonstrations of usage in Part 2, which will soon be released. 
Part 3 of the video series will introduce the programming of the new Keyin Editor, which is different from the one that comes standard with LaunchPad for AutoCAD.  The new editor is completely revamped and much easier to use.  Here the user will see how easy it is to setup their favorite SketchUp commands with the LaunchPad keypad.  This editor is now standard for all other supported non-AutoCAD products.  Also, we will be introducing how to configure the new Asset Manager, which is a new additional product that allows users to catalog, organize and search/retrieve components, materials, ruby scripts and 3rd party plugins in a simplified way. 
Later in January, there will be two more videos coming out, which are part of the Instructional Series of the Keypad and featured Plugins for SketchUp.  These tutorial videos will completely instruct the user on how to fully use LaunchPad inside of Google SketchUp.
If you're new to LaunchPad, this is a great way to find out more about the product and see firsthand how it can increase your speed and make drawing easier and more enjoyable.  You'll see how the LaunchPad speed and ease of use is achieved by the keystroke savings and decrease in distances traveled in entering input commands.  Many commands are accomplished with only two-key entries that give you hundreds of possible combinations.
If you're an existing user of LaunchPad, it's also a good sampling of what LaunchPad can do in Google SketchUp.  LaunchPad has entered into the 3D realm of drafting, drawing and modeling and, in the process, opened many doors for Architects and others who are looking to migrate and expand into 3D models.  Plus, for those who aren't aware, Google SketchUp is a FREE application!  It can be downloaded and used at no cost.  It's a great addition to the family of products supported by LaunchPad.
Stay tuned for the rest of the series and the programming videos to follow.  The videos will truly help you with the functionality of LaunchPad and will show you better ways to draw in SketchUp.  The entire video series will really be worth the look!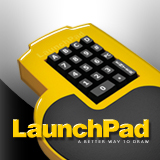 Attention: Architects, Engineers and Designers!
Here are 5 Good Reasons why LaunchPad should be an essential tool in your drafting and drawing applications:
1)   Enhances Input Speed and Productivity – by minimizing the keystrokes and distances involved in entering input commands, LaunchPad makes you faster, more efficient, and allows you to create/produce more work.
2)   Supports most Autodesk® and Adobe Products® – such as Photoshop®, AutoCAD® Architecture, Revit®, 3dsMax®, as well as Google® SketchUp®,  applications that can move you into the increasingly popular and essential realms of 3D modeling.
3)  Improves Ease of Use in Applications – with a universal command input system, as well as command editor for all programs, Launchpad allows for an easier and more simplified way of entering commands across the board and throughout a variety of different programs.
4)  Creates an Ergonomic Drafting Environment – allowing you to keep one hand on the keypad and one hand on the mouse, with the eyes focused on the work/screen.
5)  Portable on Any Supported Computers – the same keypad can be used on multiple computers such as an office computer, home computer, laptop, etc., with only one purchased code.
The list is even longer, but we chose to highlight 5 reasons for now.  When you take these considerations into account, you can see why LaunchPad is able to help transform the way you work.  You become better at what you do and more competitive through the use of the newly supported and diversified products that can propel you forward.
We're hearing from many architects in the field who value and continue to praise using the LaunchPad KeyPad.  In fact, if you'd like to hear directly from some of them, please check out our "Testimonial" page on the website.  Our users say it all and now they're even more excited over the 3D applications that LaunchPad supports.  They see and understand how adding these new applications into their drafting and drawing environments can improve their skills and take them further in their professions by giving them a competitive edge in moving from 2D vector based drawings to 3D modeling based drawings.
LaunchPad makes learning these applications easy with its universal input system that crosses over into each of the different applications.   For example, there is an editor with a command screen, component screen and materials screen that applies to products like SketchUp®, Photoshop® and AutoCAD® products.  LaunchPad users who are beginning to include these new applications into their work are reporting positive experiences and EXCITEMENT over just how easy they are to implement and use, with very impressive results!  They see the potential for advancing themselves among other architects in the industry and with their clients through the production of enhanced, quality representations and renderings of their drawings and house plans, etc.
So, if you are a LaunchPad user, you may want to consider some of these new applications yourself.  And, if you're new to LaunchPad, then now is the time to try it.  The benefits you receive with LaunchPad will only continue to grow!  To find out more about LaunchPad and what it can do for you, check out the website at:  http://www.launchpadoffice.com
We will be bringing you more technical information, videos with examples and demonstrations, and answers to some of the "how to" questions and scenarios in using LaunchPad with different applications.  So, stay tuned…