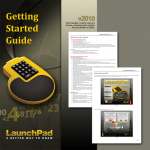 A new Getting Started Guide has been added to the website.  This guide is a valuable tool for users who are new to LaunchPad and who are installing for the first time.  It's also helpful to users who are migrating their keypad to another machine.  With the new v2010 version of LaunchPad, you can install the keypad software on your home, office and laptop computer, even if you have only one keypad.  This makes LaunchPad completely portable from machine to machine, regardless of the operating system and processor speed involved.  The only thing required is a download of the software to the computer, an install of the software, and then copying of the Authorization Code XML file to the root folder of the LaunchPad v2010 installation. 
Example of XML file:  0030555_LaunchPad.xml
The filename of the file contains the keypad's Serial Number + _LaunchPad.xml.  This makes it easy to identify the file to the keypad.  If you have multiple keypads, you can use multiple XML files. 
Find all of these helpful steps, and more, in the Getting Started Guide PDF located on the "Software" page of the website.