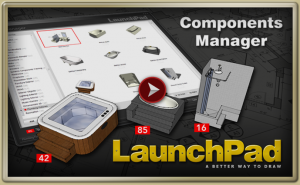 LaunchPad is excited to announce the first release of a three part video Introduction Series on using LaunchPad with Google SketchUp, one of the many programs it supports in drafting, drawing and modeling applications.  Part 1 provides an initial understanding of the basic fundamentals of the LaunchPad Keypad and how it operates.  The video features graphic explanations of some of the keypad systems and brief demonstrations within Google SketchUp. 
In Part 2 of the series, there will be an introduction to techniques that LaunchPad employs to empower users working in SketchUp.  There will also be many more hands on, practical applications and demonstrations of usage in Part 2, which will soon be released. 
Part 3 of the video series will introduce the programming of the new Keyin Editor, which is different from the one that comes standard with LaunchPad for AutoCAD.  The new editor is completely revamped and much easier to use.  Here the user will see how easy it is to setup their favorite SketchUp commands with the LaunchPad keypad.  This editor is now standard for all other supported non-AutoCAD products.  Also, we will be introducing how to configure the new Asset Manager, which is a new additional product that allows users to catalog, organize and search/retrieve components, materials, ruby scripts and 3rd party plugins in a simplified way. 
Later in January, there will be two more videos coming out, which are part of the Instructional Series of the Keypad and featured Plugins for SketchUp.  These tutorial videos will completely instruct the user on how to fully use LaunchPad inside of Google SketchUp.
If you're new to LaunchPad, this is a great way to find out more about the product and see firsthand how it can increase your speed and make drawing easier and more enjoyable.  You'll see how the LaunchPad speed and ease of use is achieved by the keystroke savings and decrease in distances traveled in entering input commands.  Many commands are accomplished with only two-key entries that give you hundreds of possible combinations.
If you're an existing user of LaunchPad, it's also a good sampling of what LaunchPad can do in Google SketchUp.  LaunchPad has entered into the 3D realm of drafting, drawing and modeling and, in the process, opened many doors for Architects and others who are looking to migrate and expand into 3D models.  Plus, for those who aren't aware, Google SketchUp is a FREE application!  It can be downloaded and used at no cost.  It's a great addition to the family of products supported by LaunchPad.
Stay tuned for the rest of the series and the programming videos to follow.  The videos will truly help you with the functionality of LaunchPad and will show you better ways to draw in SketchUp.  The entire video series will really be worth the look!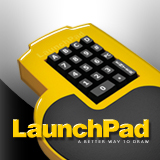 Attention: Architects, Engineers and Designers!
Here are 5 Good Reasons why LaunchPad should be an essential tool in your drafting and drawing applications:
1)   Enhances Input Speed and Productivity – by minimizing the keystrokes and distances involved in entering input commands, LaunchPad makes you faster, more efficient, and allows you to create/produce more work.
2)   Supports most Autodesk® and Adobe Products® – such as Photoshop®, AutoCAD® Architecture, Revit®, 3dsMax®, as well as Google® SketchUp®,  applications that can move you into the increasingly popular and essential realms of 3D modeling.
3)  Improves Ease of Use in Applications – with a universal command input system, as well as command editor for all programs, Launchpad allows for an easier and more simplified way of entering commands across the board and throughout a variety of different programs.
4)  Creates an Ergonomic Drafting Environment – allowing you to keep one hand on the keypad and one hand on the mouse, with the eyes focused on the work/screen.
5)  Portable on Any Supported Computers – the same keypad can be used on multiple computers such as an office computer, home computer, laptop, etc., with only one purchased code.
The list is even longer, but we chose to highlight 5 reasons for now.  When you take these considerations into account, you can see why LaunchPad is able to help transform the way you work.  You become better at what you do and more competitive through the use of the newly supported and diversified products that can propel you forward.
We're hearing from many architects in the field who value and continue to praise using the LaunchPad KeyPad.  In fact, if you'd like to hear directly from some of them, please check out our "Testimonial" page on the website.  Our users say it all and now they're even more excited over the 3D applications that LaunchPad supports.  They see and understand how adding these new applications into their drafting and drawing environments can improve their skills and take them further in their professions by giving them a competitive edge in moving from 2D vector based drawings to 3D modeling based drawings.
LaunchPad makes learning these applications easy with its universal input system that crosses over into each of the different applications.   For example, there is an editor with a command screen, component screen and materials screen that applies to products like SketchUp®, Photoshop® and AutoCAD® products.  LaunchPad users who are beginning to include these new applications into their work are reporting positive experiences and EXCITEMENT over just how easy they are to implement and use, with very impressive results!  They see the potential for advancing themselves among other architects in the industry and with their clients through the production of enhanced, quality representations and renderings of their drawings and house plans, etc.
So, if you are a LaunchPad user, you may want to consider some of these new applications yourself.  And, if you're new to LaunchPad, then now is the time to try it.  The benefits you receive with LaunchPad will only continue to grow!  To find out more about LaunchPad and what it can do for you, check out the website at:  http://www.launchpadoffice.com
We will be bringing you more technical information, videos with examples and demonstrations, and answers to some of the "how to" questions and scenarios in using LaunchPad with different applications.  So, stay tuned…