Archive for December 2010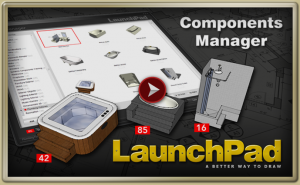 LaunchPad is excited to announce the first release of a three part video Introduction Series on using LaunchPad with Google SketchUp, one of the many programs it supports in drafting, drawing and modeling applications.  Part 1 provides an initial understanding of the basic fundamentals of the LaunchPad Keypad and how it operates.  The video features graphic explanations of some of the keypad systems and brief demonstrations within Google SketchUp. 
In Part 2 of the series, there will be an introduction to techniques that LaunchPad employs to empower users working in SketchUp.  There will also be many more hands on, practical applications and demonstrations of usage in Part 2, which will soon be released. 
Part 3 of the video series will introduce the programming of the new Keyin Editor, which is different from the one that comes standard with LaunchPad for AutoCAD.  The new editor is completely revamped and much easier to use.  Here the user will see how easy it is to setup their favorite SketchUp commands with the LaunchPad keypad.  This editor is now standard for all other supported non-AutoCAD products.  Also, we will be introducing how to configure the new Asset Manager, which is a new additional product that allows users to catalog, organize and search/retrieve components, materials, ruby scripts and 3rd party plugins in a simplified way. 
Later in January, there will be two more videos coming out, which are part of the Instructional Series of the Keypad and featured Plugins for SketchUp.  These tutorial videos will completely instruct the user on how to fully use LaunchPad inside of Google SketchUp.
If you're new to LaunchPad, this is a great way to find out more about the product and see firsthand how it can increase your speed and make drawing easier and more enjoyable.  You'll see how the LaunchPad speed and ease of use is achieved by the keystroke savings and decrease in distances traveled in entering input commands.  Many commands are accomplished with only two-key entries that give you hundreds of possible combinations.
If you're an existing user of LaunchPad, it's also a good sampling of what LaunchPad can do in Google SketchUp.  LaunchPad has entered into the 3D realm of drafting, drawing and modeling and, in the process, opened many doors for Architects and others who are looking to migrate and expand into 3D models.  Plus, for those who aren't aware, Google SketchUp is a FREE application!  It can be downloaded and used at no cost.  It's a great addition to the family of products supported by LaunchPad.
Stay tuned for the rest of the series and the programming videos to follow.  The videos will truly help you with the functionality of LaunchPad and will show you better ways to draw in SketchUp.  The entire video series will really be worth the look!