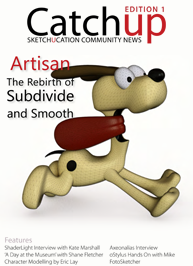 Because LaunchPad supports a wide variety of drafting, drawing and modeling software applications, we're constantly on the lookout for articles, publications, books, websites and other relevant information relating to the products we support.  We look for things that will help keep you informed and enlightened on these products, and also assist you in the growth and enhancement of what you're currently doing in your own work discipline, if that's your goal.  We strive to be a valuable resource to our LaunchPad community so that you can better utilize the applications that are available to you with your LaunchPad keypad as the driving input device behind them.    
As most of you already know, we were excited to include Google™ SketchUp™ as one of our many supported modeling products in the LaunchPad v2010 update release. We continue to see the trend in the movement towards more 3D modeling in the industry and wanted to be able to bring this and other products to you with the same ease of use, benefits, and accessibility that you enjoy in using LaunchPad with 2D applications. We're happy to see so many of our traditional LaunchPad CAD users getting on board and migrating over to the 3D applications, including the use of SketchUp! We've been hearing from you on how SketchUp enhances your work product, brings you benefits in relaying design concepts, and contributes to securing projects with clients. We're also glad LaunchPad is helping to make this transition into 3D easier.
With this in mind, we recently came upon a resource that we thought might be valuable to you in using SketchUp and wanted to share it. It's an online magazine publication on the SketchUcation website called "CatchUp – SketchUcation Community News." For those of you who are not familiar with the website, SketchUcation is a site for all things related to Google SketchUp and is referred to as "The friendly place for your Google SketchUp needs." It certainly is, and it's a great resource for SketchUp users. The site contains Forums, Plug-ins, Tutorials, Galleries, "The Daily CatchUp" – for daily news updates, Beginner Tips, and more. It's full of great information and we recommend that you check it out at http://news.sketchucation.com/. You may discover things that are helpful to you in your SketchUp endeavors.
SketchUcation's "maiden" issue of the publication "CatchUp – Edition 1" was introduced on 2/28/11, with more editions to follow.  We found the periodical to be filled with interesting and useful articles for SketchUp users, along with great pictorials, product features and tips and tricks. SketchUcation describes CatchUp – Edition 1 as being "packed with community driven articles from some of our most talented members. You'll find an exclusive 'behind the scenes' look at some of the most popular threads, plugins and tutorials that lit up the forums over last few weeks." Some of the featured content in the issue includes: ShaderLight Interview with Kate Marshall, 'A Day at the Museum' with Shane Fletcher, Character Modeling by Eric Lay, Axeonalias Interview, oStylus Hands On with Mike, FotoSketcher, Artisan Hands On, LayOut Tips and Tricks, Learn with Lemire, and more. The magazine is in a PDF format and can be viewed here: CatchUp – Edition 1, on the SketchUcation website.
We encourage you to check out the publication and the SketchUcation website to see what others are saying and doing with SketchUp, and learn more about what it can do for you. It's definitely worth the look! Remember, LaunchPad supports SketchUp with the Basic XT, PRO LT, and PRO XT keypads, and SketchUp is a FREE product to download.  If you're interested in using 3D products with your LaunchPad keypad, you can visit the LaunchPad website at www.launchpadoffice.com for more information on our selection of keypads, software and the many products we support. 
Also, if you would like to stay connected to LaunchPad's weekly assortment of resource mentions, including SketchUp, you can receive LaunchPad's Facebook posts in your FB newsfeed by "liking" the LaunchPad page at http://www.facebook.com/LaunchPadKeypad and follow us on Twitter at http://twitter.com/LaunchPadKeypad.  We regularly feature LaunchPad and supported product related happenings, updates, tutorials, links and the like, to keep you in the information loop.  We invite you to join our LaunchPad community for regular updates.
We hope you enjoy the SketchUp publication!