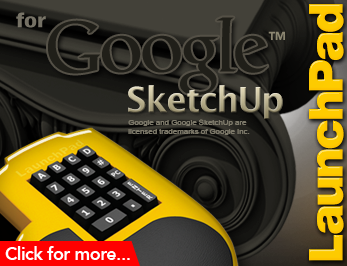 I would like to take a moment to tell you a story about my experiences with CAD and Architecture, and a trend I'm seeing for the future of architects and others in the field.  As an architectural draftsman of many years, a software developer for CAD related products (LaunchPad), and a reprographer for Architects and Engineers for 10 years, I've had a lot of experience in dealing with CAD users over time.  I migrated from CAD to AutoCAD early on.  Along the way, I witnessed a lot of enthusiasm from individuals and companies who had a desire to migrate away from hand drafted plans to CAD.  In the beginning though (the first 5-7 years), there was stiff resistance from within most of the companies I had contact with.  The resistance was from firms that were just not ready to make the jump, or that had individuals within them who fought bitterly against the concept of CAD.  During those years, I operated as a CAD consultant, where I made it my passion and career to migrate users and firms from hand drawing to CAD.  Suddenly, as if overnight, all changed and the world went CAD.  At that time, I was hard pressed to find anyone who was still hand drafting plans, and I thought back to all the CAD resistance that I had endured during those early days.  What they say about old dogs and new tricks…so true.
A transition in CAD occurred again with the introduction of 3D CAD.  2D CAD operators, or firms who had been heavily invested in 2D AutoCAD, were now being challenged with new concepts such as BIM and generating projects within a 3D environment.  I have to admit, I was one of them.  I can recall looking at Revit earlier on and found the 3D capabilities to be rather complex.  So, I held off from migrating to the idea of drawing plans in 3D, since the learning curve was so incredibly complicated.  The concept of generating models that turned into 2D construction documents was intriguing, but the plotted results appeared rather simplistic, or did not represent themselves in a manner that I had come to expect from my 2D CAD.  I talked to many other users who also tried to make the transition, and I heard the same two stories from them.  One being that, if you draw large commercial, boxy projects, like hospitals, then using Revit was fine.  The other was the time factor, being prepared for it to take 3-4 times longer to generate a set of plans.  It was great for larger Architectural firms who had the right projects and the budgets behind them.  Or, even those projects where the client was willing to pay more for a digital model of the project, if they had uses for the model beyond the construction phase of the project.  In both cases, it did not seem to be a scenario that fit my needs.  Nor, did it fit the needs of the customers and clients that I had dealt with in my CAD oriented businesses.
Eventually, my clients and customers wanted to go to 3D.  Even I did, but abandoned the idea because I was not able to give it the necessary time.  I found that what stopped most people from proceeding with 3D was that they did not have a path to executing it.  That path consisted of:  an economical method, easy to implement, a short learning curve, and results that did not produce a product that seemed sub-par.  And, since the established products on the market only met some of those requirements, a great percentage of firms and users shied away from 3D over the last 10 years.  But wait, all was not lost.  Along came the new SketchUp by Google.  At first glance (I was given that glance through a FREE download version of the software that's available to everyone), I was a little skeptical, and so were a lot of the other people I had talked to about the product.  It looked kind of like a "toy" product at first, but now I say, don't let it fool you.  You have to look at it objectively and not make the assumption that it is a limited product.  After using it for a few days, I immediately determined that this product needed to be supported by LaunchPad, and it now is. 
What I see is that Google SketchUp finally delivers on the essentials that non-3D architects and drafters have been looking for in the last decade.  Again, let's look at some of the pieces needed in executing the path to 3D that users have been waiting for:
Economical - For starters, the Google SketchUp application is FREE.  (They do have a $495.00 PRO version and I'm sure it's worth every penny.)  But, FREE means there is no reason for you not to at least try it.
Easy to Implement – After going through (25) 3-4 minute videos online that show how to execute all of the basic commands, I was drawing in 3D.  Wow, I had never drawn in 3D before!  And, in the first day, I was making things happen.
Short Learning Curve - With most 3D products there is a demo video that makes everything look easy and fast, but when it comes to implementing and producing something of any size from it, forget it.  Then, the long learning curve comes into play, which means a heavy investment in time.  Take, for example, 3dStudio MAX.  It's a great product and can do some really amazing things.  I have seen some active modeling done from it that would knock your socks off.  But, it was done by a user with years of experience and many projects under his belt.  Many of us cannot accomplish this.  With SketchUp, I was able to do a complete rendered 3D house in less than a week.
Great Results – This is a key element.  SketchUp, out of the box, is not going to produce a photorealistic render for you.  That would need some help from a 3rd party product that takes the geometry from SketchUp and generates the rendered model.  But wait, there is good news.  There are some really great products out there that can do this, and some only cost between $99 to $499.  I wanted to go all the way with it and downloaded a 30 day trial of the $499 product.  The product I used is called IRender nXT for SketchUp.  The results were so spectacular from this simple to use program, that it was all it took, I am now hooked on 3D modeling.
What SketchUp brings to the CAD person is a forgiving modeling interface that is actually easy and very fun to use.  As a creative Architect, you can be more artistic and free flowing with your design concepts when modeled in SketchUp.  All without the accuracy intimidation found with some of the other higher-end 3D/BIM oriented products.  There is a time and a place for BIM, and many higher end projects do require it.  However, there are many projects that do not require the time consuming use of BIM standards.  For example, you may want to put together a conceptual model for a client, with a very short turn around, to bring an idea to light.  SketchUp is perfect for this and allows you to create a modeled concept in no time.  It also makes 3D modeling a feasible option in terms of the decreased amount of time needed for model development, as well as a shortened learning curve that allows users to make use of the basics of modeling, without all of the BIM requirements.  So, if you are an Architect or draftsman using 2D CAD and have been saying to yourself, "I need to be able to better compete in this economy and it's now time to get into 3D modeling, but where do I start?", then let me recommend Google SketchUp as that starting point.  Keep in mind, it's not that I dislike Autodesk ADT, Revit or 3dsMAX, they are all great products and LaunchPad supports them.  It's just that these products are a little pricey and have an extremely long and involved learning curve. 
If you are really hooked on continuing to do your drawings in 2D AutoCAD, but you want to be able to provide 3D modeling of your projects without all the overhead and expense, then it's your lucky day with Google SketchUp.  I personally feel it is the most impactful CAD related product of the last 10 years.  I make this statement, not because other 3D CAD products aren't doing a better job, but because of SketchUp's simplicity and cost.  Not to mention, it's used today by millions of users worldwide.  How many seriously proficient ADT, Revit and 3dsMAX users do you know?  In my many years in this industry, I may know a handful, at best.  The accessibility and ease of use that comes with using SketchUp makes it worth jumping into the 3D modeling realm for 2D drafters at last.
Visit the official Google SketchUp website to find out more about this product and get the FREE download.  
Coming in future postings…
There will be a (3) part video series on using Google SketchUp with LaunchPad.  Part 1 is already available and you can access it here.  We will also be providing other blog postings with specialty stories relating to Google SketchUp.  So please, keep an eye out!