Posts Tagged 'Accelerator'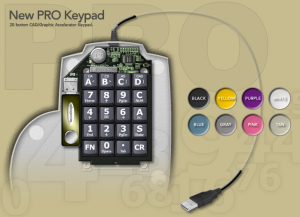 LaunchPad has released a new model of its Accelerator Keypad!  A PRO version of the keypad is now offered that expands the supported product base to include a series of Adobe® products, as well as 3D modeling software by Autodesk®.  These applications are all new additions to the LaunchPad supported products list and can only be accessed with a PRO keypad.
The PRO Keypad is a 20 button vs. 18 button keypad with many additional features, options and advantages over the BASIC Keypad.  For example, it utilizes a quiet key system, it also has exceptionally durable keys (injected plastic numbers) that are custom manufactured on cherry key mounts for extra longevity and use (rated for 50 million impressions), it contains a completely redesigned internal chassis, and it offers countless command modes of operation that are needed in the more complex graphic and modeling applications on the market that are not supported by the BASIC Keypad.  Because of its enhanced design features, it also comes with a two year extended warranty.  The PRO will definitely "launch" you forward into the deeper product base found in today's leading drafting and drawing programs!
For more information on the PRO Accelerator Keypad, visit the website at www.launchpadoffice.com and go to the "Pad Specs" tab for visual and written descriptions of both the internal and external features of the PRO Keypad.  The software applications supported by the PRO are listed under the "Software" tab on the website, and they are also listed below for quick reference.  There is an additional downloadable PDF document describing the PRO and the three other keypads available, with their differences detailed.  It can be found by clicking here (Product PDF).
Below is the entire list of PRO Keypad supported product groups:
DRAFTING Group (download PDF)
Autodesk® AutoCAD® -  (v2008) R14..2006,  (v2010) R14..Release 2009, New Releases 2010, 2011, 2012
Autodesk® AutoCAD® LT®  – (v2008) R14..2006, (v2010) R14..Release 2009, New Releases 2010, 2011, 2012
Autodesk® AutoCAD® MEP®  – (v2008) n/a,  (v2010) New Releases 2010..2012
Autodesk® Land Desktop®  – (v2008) 2004..2009,  (v2010) 2004..2009, New Releases 2010, 2011, 2012
Autodesk® Structure®  – (v2008) n/a,  (v2010) New Releases 2010..2012
Autodesk® ADT®  – (v2008) 2004..2006,  (v2010) 2004..2009, New Releases 2010, 2011, 2012
Autodesk® Architecture®  – (v2008) 2007..2009,  (v2010) 2007..2009, New Releases 2010, 2011, 2012
Autodesk® Civil3D®  – (v2008) 2005..2009,  (v2010) 2005..2009, New Releases 2010, 2011, 2012
DRAWING Group (download PDF)
Adobe® Photoshop®  *  – (v2008) n/a,  (v2010) (prior not supported), New Releases CS3, CS4 & CS5
Adobe® Illustrator® *  – (v2008) n/a,  (v2010) (prior not supported), New Releases CS3, CS4 & CS5
Adobe® Dreamweaver® *  – (v2008) n/a,  (v2010) (prior not supported), New Releases CS3, CS4 & CS5
Adobe® InDesign® *  – (v2008) n/a,  (v2010) (prior not supported), New Releases CS3, CS4 & CS5
Adobe® Fireworks® *  – (v2008) n/a,  (v2010) (prior not supported), New Releases CS3, CS4 & CS5
Adobe® Flash® *  -  (v2008) n/a,  (v2010) (prior not supported), New Releases CS3, CS4 & CS5
MODELING Group (download PDF)
Autodesk® Revit® Architecture  – (v2008) n/a,  (v2010) (prior not supported), New Releases 2010, 2011, 2012
Autodesk® Revit® MEP  – (v2008) n/a,  (v2010) (prior not supported), New Releases 2010, 2011, 2012
Autodesk® Revit® Structure  – (v2008) n/a,  (v2010) (prior not supported), New Releases 2010, 2011, 2012
Autodesk® Maya® *  – (v2008) n/a,  (v2010) (prior not supported), New Releases 2010, 2011, 2012
Autodesk® 3DStudio MAX® *  – (v2008) n/a,  (v2010) (prior not supported), New Releases 2010, 2011, 2012
Autodesk® Inventor® *  – (v2008) n/a,  (v2010) (prior not supported), New Releases 2010, 2011, 2012
Autodesk® Impression®  -  (v2008) n/a,  (v2010) (prior not supported), New Release 3
Google® Sketchup®  -  (v2008) n/a,  (v2010) (prior not supported), New Releases 7.0
* (Requires PRO Keypad)