The folks over at Autodesk User Group International have posted a great summary article about their August 2011 release of "AUGIWorld – The Official Publication of Autodesk User Group International." To provide you with exactly what's inside this online magazine issue, we're re-posting their article here. Enjoy!
AUGIWorld August 2011 Issue Released!
• Collaboration is more than just a tidy word to describe diverse users working together toward a common goal. Collaboration is a mindset and a culture which, fortunately for Autodesk product users, is aided significantly by the products they use every day.
• In "Keys to Collaboration Success," author Brian Benton offers some practical tips for collaborating on AutoCAD projects.
• Melinda Heavrin's article "Collaboration with Autodesk Design Review" elaborates on how drawing markups can become an easy, streamlined operation.
• And Andra Marquardt demonstrates how AutoCAD Map handles the critical process of file import and export in "Speaking the Same Language."
Here are the direct links to the issue!
Low Resolution PDF
(6.9mb) /
High Resolution PDF
(30.0mb) /
Read it Online
Also in the August 2011 issue of AUGIWorld:
• The Autodesk Exchange Apps Store: In June, Autodesk launched a marketplace where you can find great apps—plug-ins, block libraries, e-books, training videos, and more. Free apps, trials, products for purchase—as close as a tab in AutoCAD 2012. Stephen Preston shows you around the store.
• Collaboration in a Multi-Disciplinary/Multi-Firm Environment: Bryan Tanner shows you how to share drawing files efficiently with those inside – and outside – your environment by using great tools inside AutoCAD Civil 3D.
• Collaborating with Autodesk Inventor Publisher: In our technology-driven world, the ability to share designs and communicate effectively has never been so important. John Evans illustrates how Inventor Publisher is up to the task.
• Electrical and Mechanical Coordination: Revit MEP works admirably as a method for bringing mechanical and electrical engineers together. Todd Shackelford shows you how it's done.
• Revit Collaboration: Then and Now: Troy Gates looks back on how collaboration workflow once worked in Autodesk Revit, and how it is done today. An emerging technology is also making inroads.
• Collaboration with Revit Structure—Work Sharing: Phil Russo takes you step by step through collaboration in Revit Structure. Lots of tips and tricks here.
• Collaboration and Data Management for AEC Projects: What's Autodesk's vision for collaborating with the Revit platform? It's 360. Revit Design Product Line Manager Anthony Hauck elaborates.
• Collaboration & Interoperability: Seth Borne describes a plethora of third-party modeling solutions and techniques for integrating assets into 3ds Max.
• Value-Driven Project Delivery: Understanding the needs and requirements of clients is critical to delivering successful projects. Here are six keys to success, from Andrew Abernathy.
• 15 Questions with Shawn Hendricks: This month's Autodesk Insiders column provides a look into the world of Shawn Hendricks, Senior Technical Marketing & Video Production Manager, Media & Entertainment Marketing.
• Inside Track: Recent developments in Autodesk and related software.
• Heads Up! Updates, service packs, and more…from the pages at Autodesk.com.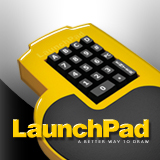 Attention: Architects, Engineers and Designers!
Here are 5 Good Reasons why LaunchPad should be an essential tool in your drafting and drawing applications:
1)   Enhances Input Speed and Productivity – by minimizing the keystrokes and distances involved in entering input commands, LaunchPad makes you faster, more efficient, and allows you to create/produce more work.
2)   Supports most Autodesk® and Adobe Products® – such as Photoshop®, AutoCAD® Architecture, Revit®, 3dsMax®, as well as Google® SketchUp®,  applications that can move you into the increasingly popular and essential realms of 3D modeling.
3)  Improves Ease of Use in Applications – with a universal command input system, as well as command editor for all programs, Launchpad allows for an easier and more simplified way of entering commands across the board and throughout a variety of different programs.
4)  Creates an Ergonomic Drafting Environment – allowing you to keep one hand on the keypad and one hand on the mouse, with the eyes focused on the work/screen.
5)  Portable on Any Supported Computers – the same keypad can be used on multiple computers such as an office computer, home computer, laptop, etc., with only one purchased code.
The list is even longer, but we chose to highlight 5 reasons for now.  When you take these considerations into account, you can see why LaunchPad is able to help transform the way you work.  You become better at what you do and more competitive through the use of the newly supported and diversified products that can propel you forward.
We're hearing from many architects in the field who value and continue to praise using the LaunchPad KeyPad.  In fact, if you'd like to hear directly from some of them, please check out our "Testimonial" page on the website.  Our users say it all and now they're even more excited over the 3D applications that LaunchPad supports.  They see and understand how adding these new applications into their drafting and drawing environments can improve their skills and take them further in their professions by giving them a competitive edge in moving from 2D vector based drawings to 3D modeling based drawings.
LaunchPad makes learning these applications easy with its universal input system that crosses over into each of the different applications.   For example, there is an editor with a command screen, component screen and materials screen that applies to products like SketchUp®, Photoshop® and AutoCAD® products.  LaunchPad users who are beginning to include these new applications into their work are reporting positive experiences and EXCITEMENT over just how easy they are to implement and use, with very impressive results!  They see the potential for advancing themselves among other architects in the industry and with their clients through the production of enhanced, quality representations and renderings of their drawings and house plans, etc.
So, if you are a LaunchPad user, you may want to consider some of these new applications yourself.  And, if you're new to LaunchPad, then now is the time to try it.  The benefits you receive with LaunchPad will only continue to grow!  To find out more about LaunchPad and what it can do for you, check out the website at:  http://www.launchpadoffice.com
We will be bringing you more technical information, videos with examples and demonstrations, and answers to some of the "how to" questions and scenarios in using LaunchPad with different applications.  So, stay tuned…