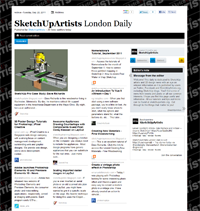 We came upon this interesting news publication that we wanted to share with you as another resource to take advantage of. It's a daily online newspaper called SketchUpArtists London Daily. It's updated every 24 hours and is created by SketchUpArtists.org, which is a site developed for the benefit of professional SketchUp users and computer graphics artists.
The publication is full of daily posts from users and others in the SketchUp and 3D design industry. Because the site is regularly updated, it contains the most recent and relevant news, articles, blog posts, videos and photos that are shared on such sites as Twitter, Facebook, SketchUp blogs, and the SketchUpArtists.org site. The newspaper site covers Headlines, Technology, Media, Stories, Education, Photos, Leisure and Environment. There are discussions and how to's relating to SketchUp, Photoshop, rendering, BIM and much more. The site even contains an Archive button that allows you to review previous editions that you may have missed.
So, if you're a user of SketchUp and other 3D design tools, and want to see "at a glance" what others are saying and doing in the industry, it's definitely worth checking out. Hats off to SketchUpArtists for bringing it to us.
The publication can be found at SketchUpArtists London Daily. Enjoy the news!