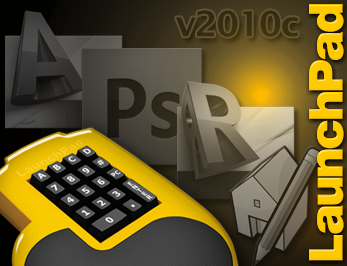 LaunchPad is pleased to announce that we are very close to releasing our latest update to the v2010 software. This update will be designated as LaunchPad v2010c and is an enormous update over the last v2010 release. It is currently in the BETA phase of testing, being tested by a small group of very talented and experienced LaunchPad users, as well as one new user who is able to add some fresh perspective to the mix. The testers are putting it through the paces to allow us to bring you the best update possible!
The v2010c update brings together many key enhancements and offers many new features and optimizations that are specific to AutoCAD. Once complete, this update will further evolve v2010 into a very stable release. This update also introduces our new, one of a kind and powerful KeyinEditor that creates a complete input dataset collection for the new LaunchPad Universal Input System. The system will have pre-built macrosets that are aligned with each other wherein similar commands share a common keyin value. Also, there is the grouping of various drawing products based on a user's discipline or field of work. For example: "BIM Modeler" group is an aligned collection of Autodesk Revit and AutoCAD, along with Adobe Photoshop. When a user decides which discipline group he or she belongs to, additional drawing products can be added to the overall data collection that is specifically designed for the individual user. Also, the Editor allows a user to work and edit within various products simultaneously. This feature has never been offered before and is completely unique to LaunchPad.
All existing users who upgraded to the v2010 LaunchPad software will receive v2010c absolutely free in approximately two weeks. This is an update that should be well received. Our testers are tweaking it out in terms of optimal usage and are giving us great feedback. They are noticing that it is very responsive and that prior bugs have been eliminated. They are finding that new and useful tools have been introduced to enhance input speed and ease of use within many different applications.
We will keep you posted on the v2010c release status and will be sending it to all existing users who are eligible upon completion, so stay tuned . . .