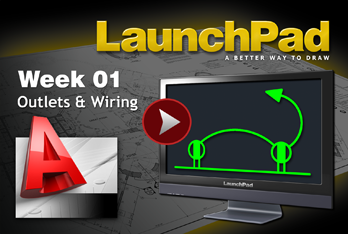 LaunchPad is excited to introduce a new video series called "52 Weeks of LaunchPad Techniques."  The series will feature one simple technique per week using the LaunchPad keypad to input commands for drafting and drawing within the many applications supported by LaunchPad.  Demonstrations will be done in AutoCAD, SketchUp, Photoshop, 3dsMAX, Revit and many more.
While there are literally thousands of commands that can be executed with LaunchPad and all of its supported products, we decided to highlight one collection each week to give a general sampling of how the product works within different applications and what it can achieve.  When we are finished, we'll have an entire collection of techniques for users to tap into as a resource for new information, continuing education or just refreshers for our veteran users out there.  The videos will show how easy LaunchPad is to use with a myriad of drawing products and how much it simplifies the drafting and drawing process, while increasing speed and productivity.  We're certain there will be examples of things that our users may not be aware of, so there's potential for something to be learned by all!
The technique used in the first video in the series was actually suggested recently by one of our users who needed the process for a current work project.  The video focuses on drawing Outlets and Wiring on a floor plan using the LaunchPad keypad while working in AutoCAD.  The example used is only one of many possible ways the task can be completed.  We chose a short set of commands in our two macrosets to provide an initial understanding of chained commands and pauses.  We also show how to string commands together to execute a series of tasks that are necessary when doing just the simplest of things, like inserting outlets and wiring them up.
The next video will be on the Programming and Drawing of Standard Primitives with LaunchPad inside 3dsMAX.  Stay tuned!